AreConfig v 2.2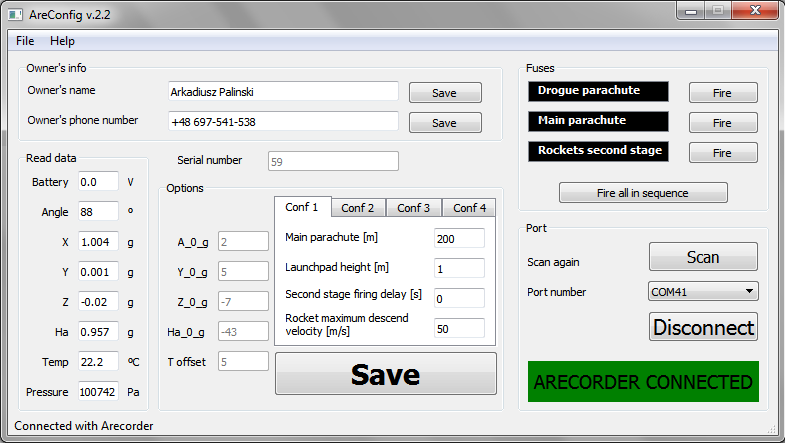 AreConfig is a program which allows changing options and calibration of flight computer "Arecorder". Program exists in two versions – user version and calibration version.
AreConfig features:
changing all four parameter sets – main parachute deployment altitude, launchpad height, delay between burnout of first stage engine and ignition of second stage engine and rocket descending velocity at which emergency main parachute deployment will happen and disabling this algorhitm (when velocity is set to "0"),
testing detection and firing fuses in controlled environment,
changing owner's name and phone number,
readout measurements from accelerometer, pressure sensor, temperature sensor, voltage supply and calculated upon accelerometer measurements, angle between Arecorder and ground plane,
calibration of accelerometer and temperature sensor (only calibration version),
changing serial number (only calibration version).
Current program (available only on Windows):
AreConfig v 2016.04.11_en_user
Current manual:
AreConfig v 2.2, manual published at 2016.07.03
Drivers:
Useful links:
Thread at forum.rakiety.org.pl about Arecorder [PL]
If you want to ask a question, report error or suggest change or upgrade to Arecorder or manual, please leave a comment.